Looking for the best Black Friday Deals for solopreneurs? Here is my 2019 list for you. As a solopreneur, you need software to run your business, marketing tools, and courses to help you make money online. If there is a marketing software or tool you've been wanting but haven't pulled the trigger on yet, Black Friday is the best time to do it. The deals below will help you create an online course, run Facebook ads, and make money as an influencer.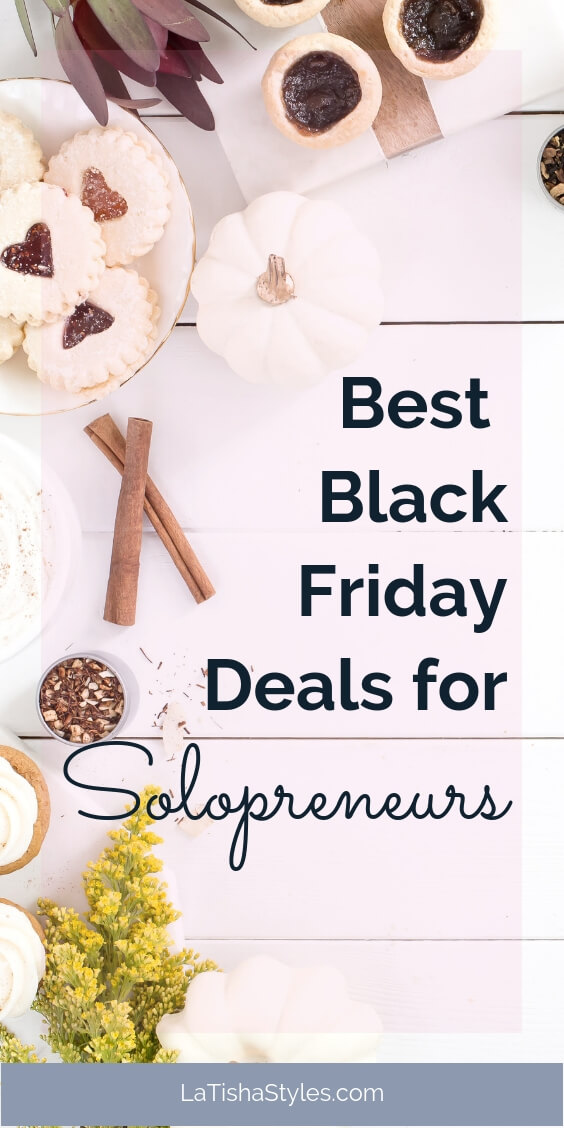 The majority of these links are partner links and if you choose to make a purchase I will earn a commission. Thank you for choosing to support in this way.
BLACK FRIDAY DEALS ON MARKETING TOOLS
StudioPress
In case you were wondering, the theme for this site is built on Genesis, which is an speed optimized platform for WordPress. Kinda like building a house with the good bricks. Whenever I build a client site, I always make sure they're set up on the Genesis framework. But then we have to find a theme. Kinda like decorating your brick house. Fortunately, StudioPress has plenty of themes for you to choose from. Purchasing each theme individually would cost $2300, but with this Black Friday deal, you'll save that much right away.
Beginning Thursday, November 28th through Monday December 2nd, get $100 off the StudioPress Pro-Plus All Theme Package.
Partner Link: http://partner.latishastyles.com/studiopress Special Code: No code needed
GroupFunnels
If you are a group owner on Facebook then you NEED this software. And if you've been waiting to get Group Funnels (which automates the process of bringing in those questions from group members) then you won't want to miss this Black Friday deal.
Bonuses:
New Member Welcome Hacks Training To Increase Engagement, Email Open/Click Rates, & Increase Reach & Sales ($200 value)
"Group Growth Engines" Step By Step Training So You Can Get Your First Or Next 1,000 Members Rapidly! ($300 value)
EXPIRING Bonuses:
Facebook Group Branding Workbook So You Can Confidently Define Your Brand, Name Your Group, Refine Your Value Proposition, and Attract Targeted Members ($300 value)
Media Magnetism Workshop So You Can Effortlessly Attract Endless FREE PR & Speaking Gig Opportunities ($300 value)
FB Live Monetization & Engagement Training – How cool would it be to press "Go Live" and get leads and sales every time? Discover the best engagement & monetization hacks so you can turn lives into money in the bank! ($300 value)
Group Funnels Software + Training Package Total Value = $1,600
Yours for $297!
Hope to see you on the inside so you can get a bunch of leads from your group & make more sales on autopilot!!
To date… Group Funnels has helped their 700+ customers generate over 2,000,000 new group members & 1,000,000 email leads with the click of a button. You're leaving a lot of $$ on the table if you're not using this proven system…
Partner Link: http://partner.latishastyles.com/groupfunnels Special Code: No code needed
OptinMonster
Need a popup for your website? How about making a popup appear only after someone clicks a link? You can do that and more with OptinMonster. Now is your chance to get this software at an amazing deal.
Get 35% off your subscription to OptinMonster or TrustPulse this Black Friday.
Even better! This year OptinMonster is giving away a free MacBook Pro! You can enter to win beginning November 11th. The giveaway ends December 3rd at 11:59pm EST.
Partner Link: http://partner.latishastyles.com/optinmonstercoupon Special Code: No code needed
Thinkific
Thinkific ???????? did ???????? not ???????? come ???????? to ???????? play ???????? this ???????? year! They are giving away a free gift when you take advantage of their Black Friday deal.
This is my go-to platform where I host all of my online courses. You're going to get everything you need to launch your online education business this year. Here's what you'll get when you take advantage of this deal:
7 months on Thinkific's Pro plan for the price of 5 (that includes 2 free months to get you started). This gives you the time you need to design an amazing course and be ready to launch in January, the most popular time for online course enrollment – save $198
All training to get you started. You'll get access to Thinkific's Masterclass training, led by their Lead Educator, Aaron Morin – worth  $1050
Live group coaching. Join the Thinkific team live for 3 weeks, where they'll guide you through the fundamental steps of building a course. You'll be able to ask plenty of questions, and meet other course creators in the process – worth $160
Exclusive software discounts. Use the tools that course creators love, at an amazing price – worth $800
Step-by-step setup support / Workbooks. Thinkific will walk you through getting set up with their platform. Plus, if you already have an online course elsewhere, they'll give you a migration plan to seamlessly transfer your students and course – worth $50
All purchases by Midnight on Friday, November 29th get a free gift — a microphone to take your course creation to the next level!
a Blue Snowball USB Microphone that will make your audio content professional quality – worth $50
Partner Link: http://partner.latishastyles.com/thinkificblkfriday Special Code: No code needed
BLACK FRIDAY DEALS ON MARKETING COURSES
Flourish with Facebook Ads
Monica Louie is a pro when it comes to Facebook Ads. (Fun fact, the idea for this Black Friday roundup post came from her.) The Flourish with Facebook Ads course is great if you're looking for traffic, subscribers, and even better, sales! I've been using Facebook Ads since I started my business, and it's largely responsible for my full-time income. Use the code LATISHA75 to get $75 off the program and start growing your business now.
Partner Link: http://partner.latishastyles.com/flourish Special Code: LATISHA75
Making IG Sales bundle
Instagram has consistently been a way for me to make sales and connect with my audience.
I want you to feel the same excitement I had when I started making sales from Instagram.
That's why I've bundled up 3 of my best IG workshops and created the Making IG Sales Special Training Bundle.
Includes:
How to Get Coaching Clients from Instagram Workshop
How I Make Sales Using IG Stories Workshop
Selling Over Messenger Workshop
Use the code below to get 50% off the regular price from Thursday, November 28th – Monday, December 1st.
Partner Link: https://cart.creatingcoins.com/making-ig-sales/ Special Code: BLACKIG2019
Making Sense of Affiliate Marketing
Want an easy way to monetize your blog? You can create a blog post just like this one and earn through affiliate commissions. This is just one strategy I use to earn an extra $500 – $1,000 each month from affiliate marketing. See more strategies and learn how to do it with Making Sense of Affiliate Marketing.
Use the code BLACKFRIDAY201920 from Friday, November 29, 2019 to Monday, December 2, 2019 ( ends at 11:59 p.m. PT) to get 20% off the course.
Partner Link: http://partner.latishastyles.com/msoaff Special Code: BLACKFRIDAY201920
Small Business Incubator
Still haven't started your business? Sandy Smith of Say Yes University has you covered. Join Side Hustle School or enroll in the Small Business Incubator to learn exactly how to start your own business. Both are half off for Black Friday!
Use the code HALFOFF from Monday, November 25, 2019 to Monday, December 2, 2019 ( ends at 11:59 p.m. PT) to get 50% off any course.
Partner Link: http://partner.latishastyles.com/sayyes Special Code: HALFOFF
Are there any deals that I missed? Please let me know!